Featured Episode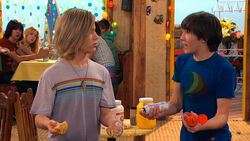 The episode starts out with Bucket and Skinner installing cup holders in Kelly's boat to impress her. Unfortunatly, the boat breaks and Kelly must get a job to repair it. After accidentally destroying Kelly's boat, Bucket and Skinner must get jobs to raise money and fix it. Their first idea is dressing up in dress suits, pretending to be business men. They poured milkshakes over themseleves and Bucket was about to get his spray out to show everyone, but it sprayed in his eyes.
Piper sees them and is able to get them jobs at Taco, Taco, Taco dressed in costumes for advertisement so that she could get the pass to see the sharks at the aquarium. The manager says that the expectors have to come and decide if the restaurant closes down or not. Meanwhile, Kelly begins to work as a lifeguard with Aloe and finds him a bit weird. (read more)
Featured Character
Aloe is one of the main characters in the Nickelodeon TV series Bucket and Skinner's Epic Adventures. He is the show's main antogonist and Bucket and Skinners arch enemy. Aloe is a senior in high school.
Aloe is very self centered, selfish, bossy, and demanding. He often uses his assistant Sven for amusement, even if it means doing embarrassing things.
Aloe is obsessed with his abs, and flaunts them around to show off to people and to impress girls; especially Kelly. Many pictures of himself flexing his abs line the walls of his house, tower and website. Aloe is also very flexible. He bench presses a lot, walks on his hands and does flips. (read more)