Skinner
Gender
Male
Born
November 13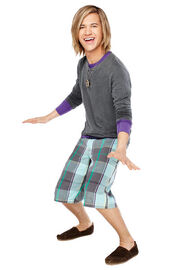 Skinner (
Dillon Lane
) is one of the main characters of the show
Bucket and Skinner's Epic Adventures
.
Piper and Skinner are girlfriend and boyfriend. Many people find there relationship weird, due to their age difference. Even so, the two are not afraid to show their relationship. Piper is in love with Skinner for his looks and his don't-care-what-people-think-about-you personality. Skinner is in love with Piper for... well, everything about her. Despite their affection for each other, the two of them are sometimes known to argue.
Piper is often annoyed by Skinner's stupidity, and Skinner believes Piper to be bossy, even though he is the true problem. Because of this, Piper is responsible for disciplining Skinner and making sure he doesn't go out of line. But at the end of the day, they are still a couple.
In , she apologizes to Skinner for yelling at him. This is not something she frequently does, suggesting that she cares a lot about him. In , she asks Skinner to ask her out to the dance.
It is revealed that Skinner has a 13 shoe size when he dropped his shoe in Epic Girls.
He has a photographic memory.
He sleeps with his eyes open.
He sometimes does stupid things.
Photo Gallery
Edit
Community content is available under
CC-BY-SA
unless otherwise noted.